Humidity:
Need to meet during normal work:
● When the ambient air temperature is +40 °C, the relative humidity of the atmosphere cannot exceed 50%. If the temperature is lower, it can be used under higher relative humidity.
● The average monthly relative humidity of the wettest month is 90%.
● Need to consider the effect of condensation on the product's performance.
Reliable contact indication with isolation function:
● AOMEY series molded case circuit breakers are in line with the isolation defined in IEC60947-2.
● The isolation position corresponds to the O (OFF) position.
● Only when the contact is really opened, the operating handle can indicate the "OFF" position.
● After testing, the isolation function is safe and reliable.
Protection level:
● Circuit breaker body: IP protection grade is IP20.
Product selection guide:
Product name

Display

method

Frame current

Breaking

capacity

Set current

Pole

Tripping

type

Product accessories

AO

MEY

250

H

250

3

3

00

↓

↓

↓

↓

↓

↓

↓

↓

Corporate Code

Electronic liquid crystal

250:250A

400:400A

630:630A

800:800A

M: M type

H: H type

250:250A

400:400A

630:630A

800:800A

3:3P

4:4P(No tripping device, N pole through)

3:Electronic trip

00:No accessories
Main performance indexes:
Model

AOMEY-250

AOMEY-400

AOMEY-630

AOMEY-800

Rated voltage (V)

400

400

400

400

Rated insulation voltage (V)

1000

1000

1000

1000

Rated impulse withstand voltage Uimp(KV)

8

8

8

8

Rated frequency (HZ)

50

50

50

50

Rated current (A)

250

400

630

800

Pole number

3P, 4P

3P, 4P

3P, 4P

3P, 4P

Use category

B

B

B

B

Breaking capacity degree

M

H

H

H

H

Breaking capacity

Icu (kA) AC 400

50

65

70

70

65

Ics (kA) AC 400

35

65

70

70

50

Icw (kA) AC 400(1s)

10

10

10

20

Mechanical life

Maintained

40000

20000

20000

10000

Without maintained

20000

10000

10000

5000

Electrical life

AC 400

10000

8000

8000

2500

Communication protocol

DL/T 645

Communication baud rate

600bps、1200bps、2400bps、4800bps、9600bps、19200bps
Product structure: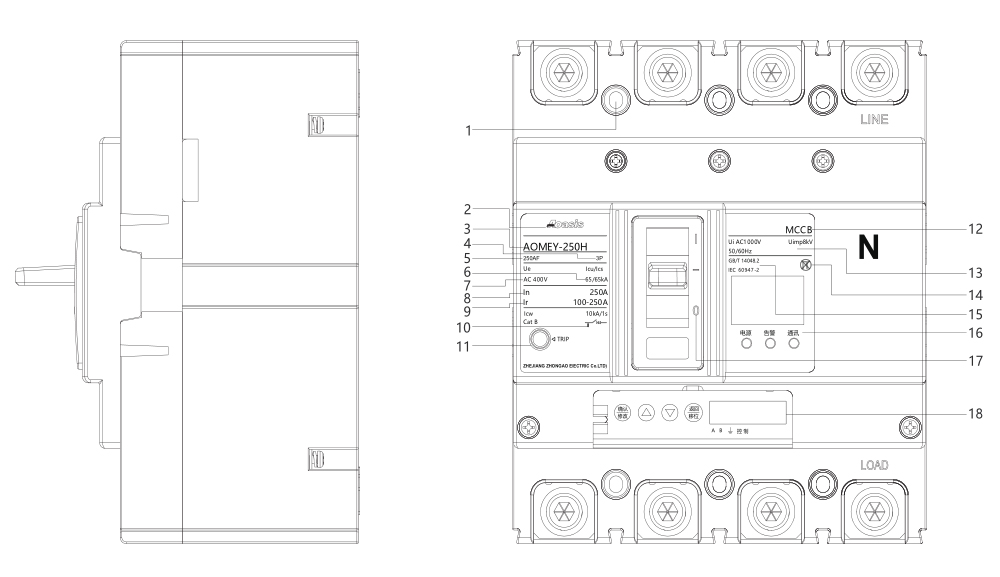 | | | | | | |
| --- | --- | --- | --- | --- | --- |
| 1 | Mounting holes | 7 | Rated voltage | 13 | Technical parameter |
| 2 | Manufacturer's trademark | 8 | Rated current | 14 | Don't correspond to the IT system |
| 3 | Product model | 9 | Current setting range | 15 | Standards compliant |
| 4 | Number of poles | 10 | Circuit breaker with isolation function | 16 | Description of Indicator function |
| 5 | Frame grade | 11 | Trip button | 17 | Closing, tripping, opening |
| 6 | Breaking capacity | 12 | Moulded Case Circuit Breaker | 18 | Controller operation instructions |
Outline and installation dimensions(mm):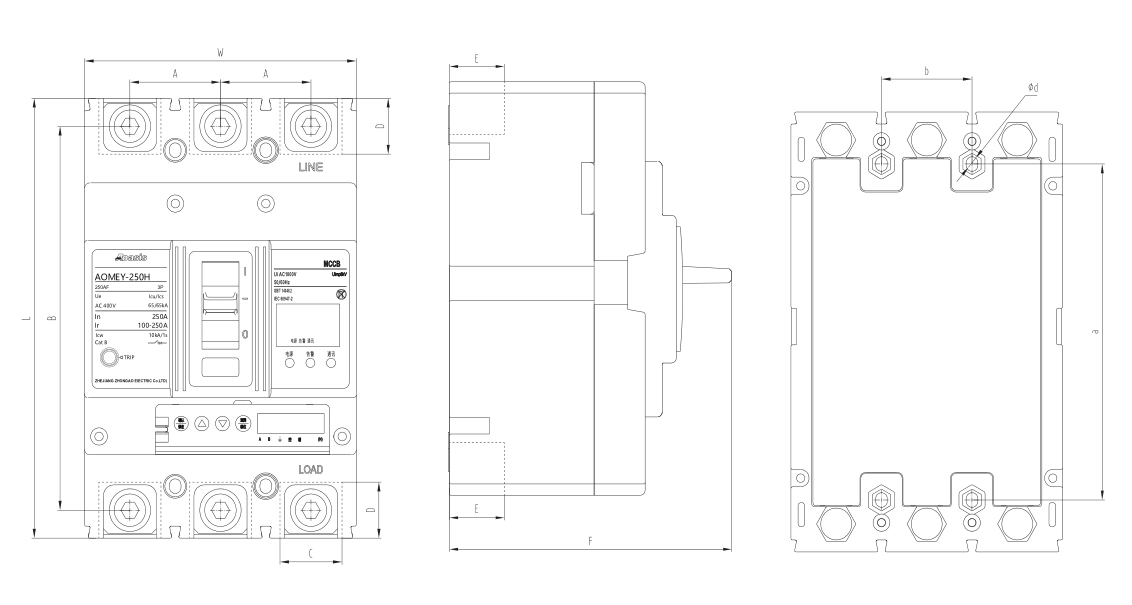 Temperature

AOMEY-250

AOMEY-400

AOMEY-630

AOMEY-800

Model

3P

4P

3P

4P

3P

4P

3P

4P

L

165

257

275.5

275.5

W

105

140

140

184

210

280

210

280

A

35

43.5

70

70

B

144

230

243.5

243.5

C

24

31

45

45

D

21

29

30

30

E

22.5

31.5

24

26

F

116

155

155

155

a

126

194

243

243

b

35

44

70

70

Φd

4×Φ4.5

4×Φ7

4×Φ8

4×Φ8