Model specification: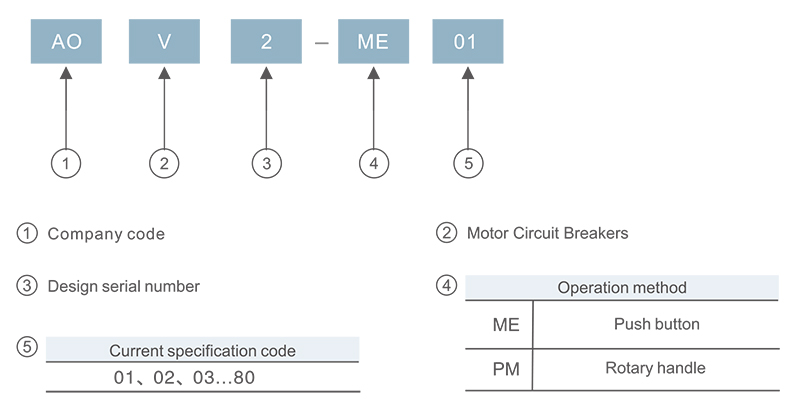 Design Features:
● Adjustable current setting value: it can be adjusted to the appropriate current value indicating position according to the actual working current.
● Can simulate mechanism trip design: through the TEST can make the mechanism trip, convenient simulation TEST.
Structural Features:
● Double new point structure: double break point of contact can suppress and disperse arc energy, improve the effort of eliminating isolated, improve the ability of connecting new points, reduce the electrical loss of melting head, and effectively improve the electrical life of the product.
● Thermal and magnetic comprehensive protection structure: the product has multiple protection functions of overload, short circuit and three-phase unbalanced.
Technical Parameters:
AOV3-ME

Motor Circuit Breakers Model

AOV3-ME40

AOV3-ME63

AOV3-ME80

Rated current A

25-40A

40-63A

56-80A

Press-button control 50/60Hz,AC-3

The three-phase motor standard rated power

230V (kW)

11

15

22

400V (kW)

18.5

30

40

415V (kW)

22

33

45

440V (kW)

22

33

45

The breaking capacity meets IEC60947-2 Standard

230/240V

Icu (kA)

100

Ics%(1)

100

400/415V

Icu (kA)

15

Ics%(1)

50

440V

Icu (kA)

10

Ics%(1)

60

500V

Icu (kA)

4

Ics%(1)

100

690V

Icu (kA)

2

Ics%(1)

100

If the breaking capacity Isc is greater than Icu, the corresponding fuse can be used. (if needed)

230/240V

aM A

★

gG A

★

400/415V

aM A

315

gG A

400

440V

aM A

315

gG A

400

500V

aM A

200

gG A

250

690V

aM A

200

gG A

250
★Don't need Fusegear: breaking capacity lcn>lsc
(1)percentage of lcu
Outline Dimensional Diagram(mm):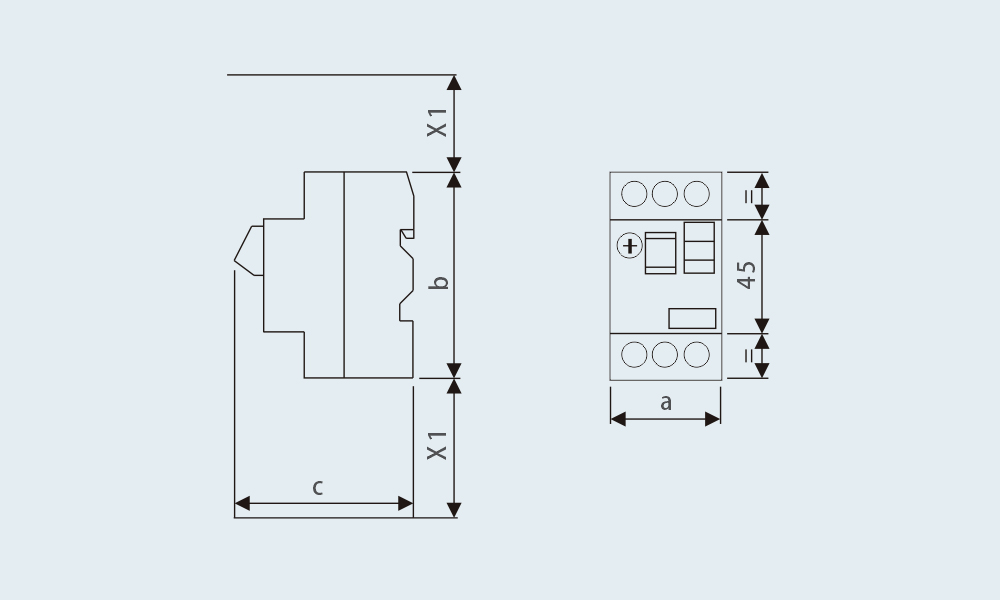 | | | |
| --- | --- | --- |
| Type | AOV2-ME&PM | AOV3-ME |
| a | 44.5 | 61.2 |
| b | 89 | 121 |
| c | ME:78,PM:90 | 114 |
X1 is electrical clearance = 400mm, applicable to Ue<690v