Working characteristics of isolating switch:
1.During the overhaul of electrical equipment, it provides an electrical compartment which is a clearly visible disconnection point to ensure the personal safety of maintenance personnel.
2.The isolating switch cannot be operated with load: it cannot be operated with rated current or large current, and cannot be opened or closed with rated current and short-circuit current.
3.In general power transmission operation: closing the isolating switch at first, and then closing the circuit breaker or load switch.In the case of power off operation: closing the circuit breaker or load switch at first,and then disconnect the isolating switch.
4.The selection is the same as other electrical equipment.Rated voltage, rated current, dynamic stable current, and thermal stable current must meet the needs of the use occasion.
AOH isolating switch can provide isolation function for the circuit and provide obvious disconnection mark.
Certification Standards:Standard GB10917.1.IEC61009-1
Product Selection:
Type Description (Isolating switch in 125A frame)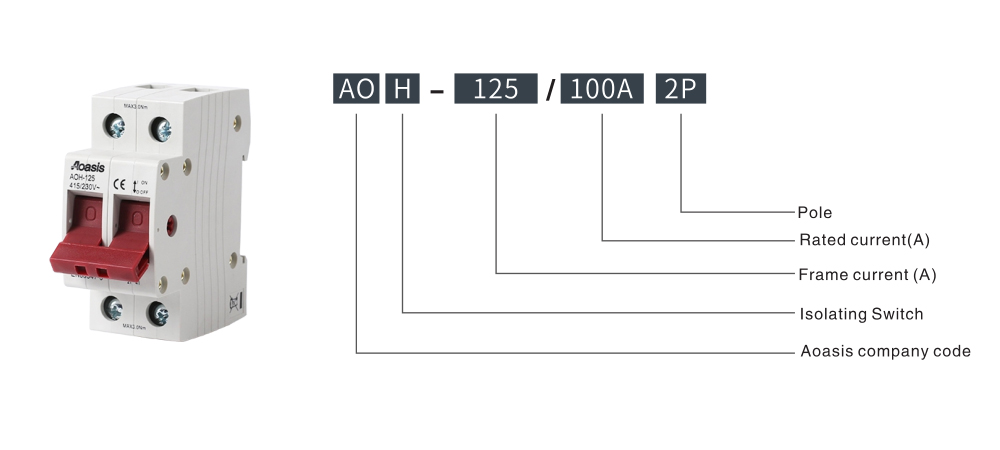 Product Characteristic:
Frame current(A) lnm

100

Rated insulated voltage(V) Ui

500

Rated impulse withstand voltage(kV) Uimp

4

Rated operating short-circuit breaking capacity(kA) Ics

6

Rated short-circuit breaking capacity (kA) Icn

6

Rated residual making and breaking capacity(A) I△m

2000

Max.breaking capacity at rated residual current

0.1s

Instantaneous release features

No

Release Form

Thermomagnetic release

Pollution grade

2

Over Voltage Protection

Uvo=280V±14V

Mechanical Characteristic

Electrical life

10000

Mechanical life

20000

Protection level

IP20

Normal working conditions and installation characteristic

Temperature

-35℃~ +70℃

Altitude

Do not exceed 2000m

Terminal blocks

Screw crimping

Max.connection capacity (N.m)

25mm2

Max.ultimate torque (N.m)

2.5

Installation category

II、III

Installation method

35mm DIN Rail

Incoming wiring method

Install the wire at the top
AOH-125 isolating switch has the following functions:
● Isolation function
Certification Standards:
● Standard:GB14048.3、 IEC60947-3
Product Characteristic:
Electrical Characteristic

Pole

1P、2P、3P、4P

Frame current(A)

25、40、63、80、100、125

Rated voltage(V) Ue

AC230(1P)

AC400(2P、3P、4P)

Rated insulated voltage(V) Ui

690

Rated impulse withstand voltage(kV) Uimp

6

Rated short-circuit withstand current Icw

12Ie/1s

Rated short-circuit making capacity(kA) Icm

20Ie/0.1s

Rated making and breaking capacity

3Ie,1.05Ue,COSφ=0.8

Mechanical Characteristic

Utilization

AC-21B、AC-22A

Electrical life

1500

Mechanical life

8500

Pollution grade

2

Normal working conditions and installation characteristic

Temperature

-35℃~ +70℃

Altitude

Do not exceed 2000m

Wiring terminal

Screw crimping

Max. connection capacity (mm²)

16(20A~63A)

50(80A~125A)

Max. ultimate torque(N.m)

2.0(20A~63A)

3.5(80A~125A)

Installation category

II、III

Installation method

TH35-7.5 Standard DIN rail

Incoming wiring method

Incoming wire can be installed on top or at the bottom

Installable accessories

No
Outline Overall and Installation Dimensions:
Specifications

Width (mm)

1P

18

2P

36

3P

54

4P

72

AOH-125 Isolating Switch